This might be the yummiest bread of all-time. So prepare yourself. It's also pretty easy.
You will need:
1 rounded cup of fresh, grated zucchini (+ a little extra to place on top of the loaf)
1 cup sorghum flour
1/2 cup tapioca starch/flour 
2 tsp baking powder
1/2 tsp baking soda
3/4 tsp xanthan gum
1/2 tsp sea salt
1 tsp cinnamon
1 cup organic (not refined!) brown sugar
1/3 cup coconut oil
1 tsp lemon juice
Egg replacer that is equivalent to 2 eggs
1/4 cup rice milk
1/3 cup chopped walnuts 
Loaf pan - lightly oil with some coconut oil
Don't be afraid of ingredients that aren't familiar to you. They aren't actually too hard to find. Although.. the sorghum flour seemed to be hiding on me for a while. You will also need a electric mixer to make it all happen. Excellent.. let's proceed, shall we?
* Preheat oven to 350 degrees.
1. After you grate your zucchini (I peeled most of the skin off), press it with paper towel, so all of the water comes off of it, then fluff it back up with a fork. .. You'll see. Then leave to the side.
2. In your mixing bowl, combine all of the dry ingredients and mix together
3. Add the wet ingredients to the dry (don't add zucchini or walnuts yet!)
4. Mix together until the batter is smooth. I did this on a medium speed and it only took a few minutes.
5. Once the batter is all nice and smooth, mix the zucchini and walnuts by hand and then scrape into your greased pan, and then smooth out with a spatula
6. Place your extra shreds of zucchini on top of the loaf, then place on the centre rack in the oven and cook for 50-60 minutes
7. Mine took just over 50 minutes - it gets nice and golden and 'springy', and you can test that it's done by placing either a toothpick or a thin knife into it, and as long as it comes out clean, you're good to go
8. Set on a cooling rack. Then try it warm with a little vegan margarine.. ohhh mama!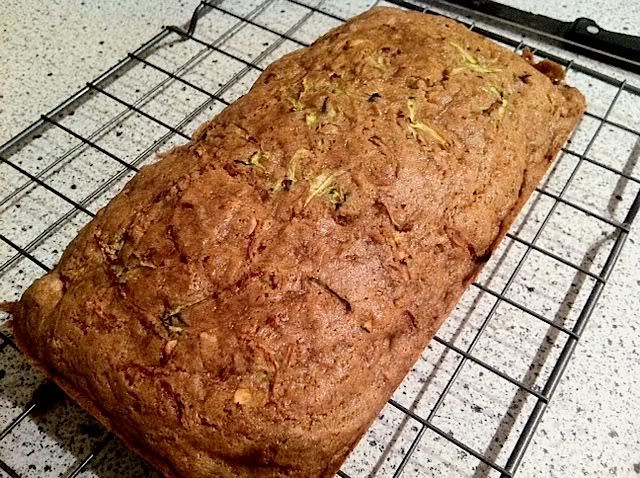 Voila! And I'm sorry for the quality of the picture. Still can't find my camera cord in this moving mess.. hmmmm.
Also, I can't take credit for this recipe. I got it from sweet website: Gluten Free Goddess
Enjoy my friends! xo