A night of unpacking, now just baked myself some more of that delicious gluten free walnut zucchini bread, and made a batch of Peanut Butter Oat Bars. nom nom

These are recipes from my dinners the last two nights. :) I'll start with the Green Goddess Bowl, courtesy of (and slightly changed from) Choosing Raw.
You will need two dressings for this recipe. 1. Smoked Avocado Cumin Dressing and 2. Balsamic Tahini Dressing. Both really yummy.

Smoked Avocado Cumin Dressing:
In a small blender or food processor, blend together
1 small avocado
1 tbsp cumin powder
Juice from 1 lime
Few drops of liquid smoke (to your taste)
1 cup water
1/4 tsp salt
Dash cayenne pepper (or paprika - whatever's handy)
1 tbsp olive oil
Donezo. Also, FYI.. if you don't know where to find the liquid smoke, I found it in with the BBQ sauces.
Now, Balsamic Tahini Dressing
Same thing, blend these together in a food processor or small blender
 1/2 cup tahini
1/4 cup balsamic vinegar
3/4 water
1/4 tsp garlic powder
1 tbsp tamari (or nama shoyu)
Ok..moving on!
Now that you have your dressings, the ingredients for your dish are (to serve 1):
3 cups kale, chopped
1/2 cup broccoli florets, chopped
1/2 zucchini, spiralized (or peeled very thin)
1/2 cup vermicelli noodles
1/2 cup cherry tomatoes, halved
2 tbsp hemp seeds
The original recipe called for kelp noodles, but I couldn't find any! If anyone knows where to get them locally, please let me know.
So now..
1. Cook vermicelli noodles as per package direction
2. Lightly steam kale and broccoli
3. Mix zucchini in with your noodles, then add a generous amount of your avocado dressing and mix well, then add your cherry tomatoes and mix well again
4. Plate the kale and broccoli and drizzle your balsamic tahini dressing over top of it, then top with your noodles. Sprinkle hemp seeds on top, and you're ready to go!
Now onto… The Vegan "Cobb Salad"!
Inspired by Kathy from lunchboxbunch, I also wanted to make my own version of Cobb Salad.
You will need (for one):
Fresh Baby Spinach - fill up your bowl almost to the top
Tempeh (I used maple flavoured)
Mandarin Oranges (I bought canned, then just drained the liquid)
1 avocado - sliced
Red kidney beans
Black olives - sliced
Red Onion - chopped
There are obviously other things you can add to this as well:
Cherry tomatoes, hearts of palm, etc.. But this is what I had and was in the mood for. 
First off, fry your tempeh over medium heat with a little bit of oil (and some water if it starts to get dry), until it is crispy and brown. And then literally all you need to do for this is to use enough of your toppers to make a rows over your spinach. The amount for each is up to you.
Now..my picture doesn't looked overly appetizing, but I mixed in some italian dressing and it was delicious. You wouldn't think that all of these ingredients would taste so good together, but they do.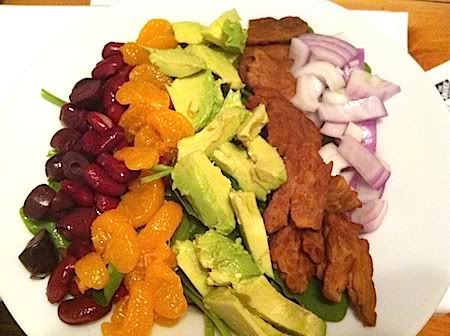 Ok.. after posting mine, it really doesn't look great, haha. But I promise you that in real life it looks really quite lovely. To back myself up here and get some cred, I will link you to Kathy's website, where her photos perfectly capture the real beauty (haha!)
Enjoy! xo

Well, I had a productive day in the cooking department! I go back to work tomorrow after a 2-week break, so I wanted something fun for dinner. Sooo.. taco salad!
You will need:
Romaine lettuce (1 head)
1 can black beans
Taco seasoning (home made - see below)
1 large tomato - diced
1/2 white onion - chopped 
1 avocado - cut into small pieces
1 lime
Tortilla chips (I use Neal Brothers - organic blue tortilla chips + flax seeds)
1. Drain half of the liquid from the can of black beans, then add them into a small pot with 1/3 cup of water and your taco seasoning
**Your taco seasoning consists of these simple spices (thanks for the tip, Mom!)
1 tbsp chili powder, 1/2 tbsp cumin, 1 tsp garlic powder 
2. Let the beans warm on medium for about 3-5 minutes, then take them off the burner and let them cool a bit while you prepare your veg.
3. Tear your romaine into smaller pieces, add your tomato and onion and toss together
4. Add your avocado and then squeeze lime juice over top of them so it doesn't brown - then toss with the rest of the salad, then add the black beans and do the same - you can add a little more of the juice on top for flavour
5. Top the salad with tortilla chips
That's it! Sorry, no picture. Aaaand, before I knew it, the entire bowl was gone! It makes me very happy when my boyfriend mows down on my vegan dishes. He ate three bowls of it! It tastes like you're eating tacos, just no ground beef (or veggie ground round), and no excessive amounts of sodium in your taco seasoning.. ah, its beautiful knowing exactly what is going into your body.

This might be the yummiest bread of all-time. So prepare yourself. It's also pretty easy.
You will need:
1 rounded cup of fresh, grated zucchini (+ a little extra to place on top of the loaf)
1 cup sorghum flour
1/2 cup tapioca starch/flour 
2 tsp baking powder
1/2 tsp baking soda
3/4 tsp xanthan gum
1/2 tsp sea salt
1 tsp cinnamon
1 cup organic (not refined!) brown sugar
1/3 cup coconut oil
1 tsp lemon juice
Egg replacer that is equivalent to 2 eggs
1/4 cup rice milk
1/3 cup chopped walnuts 
Loaf pan - lightly oil with some coconut oil
Don't be afraid of ingredients that aren't familiar to you. They aren't actually too hard to find. Although.. the sorghum flour seemed to be hiding on me for a while. You will also need a electric mixer to make it all happen. Excellent.. let's proceed, shall we?
* Preheat oven to 350 degrees.
1. After you grate your zucchini (I peeled most of the skin off), press it with paper towel, so all of the water comes off of it, then fluff it back up with a fork. .. You'll see. Then leave to the side.
2. In your mixing bowl, combine all of the dry ingredients and mix together
3. Add the wet ingredients to the dry (don't add zucchini or walnuts yet!)
4. Mix together until the batter is smooth. I did this on a medium speed and it only took a few minutes.
5. Once the batter is all nice and smooth, mix the zucchini and walnuts by hand and then scrape into your greased pan, and then smooth out with a spatula
6. Place your extra shreds of zucchini on top of the loaf, then place on the centre rack in the oven and cook for 50-60 minutes
7. Mine took just over 50 minutes - it gets nice and golden and 'springy', and you can test that it's done by placing either a toothpick or a thin knife into it, and as long as it comes out clean, you're good to go
8. Set on a cooling rack. Then try it warm with a little vegan margarine.. ohhh mama!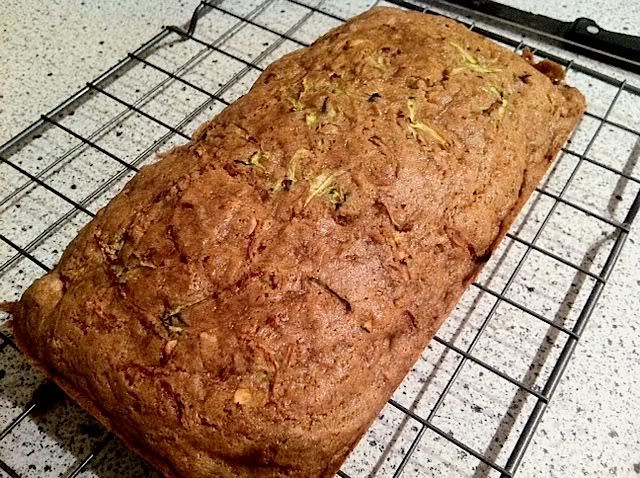 Voila! And I'm sorry for the quality of the picture. Still can't find my camera cord in this moving mess.. hmmmm.
Also, I can't take credit for this recipe. I got it from sweet website: Gluten Free Goddess
Enjoy my friends! xo
Good Morning!
Day 3.
Couldn't even post for day 2. I was going through such serious sugar with-drawls. I actually felt crazy. All I wanted was ONE vegan sugar cookie! C'mon..ONE! But I didn't give in. YES!
This morning I started off my day with some fresh fruit, and just made some home-made granola bars. They're sitting in the fridge - will take photos when they come out. No sugar - full of lots of good stuff like chia seeds, mixed fruits/nuts (containing goji berries), real maple syrup and peanut butter. nom nom nom.  :)